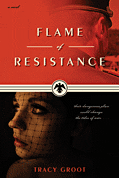 Flame of Resistance
Synopsis:
Years of Nazi occupation have stolen much from Brigitte Durand. Family. Freedom. Hope for a future, especially for a woman with a past like hers. But that changes the day
American
fighter pilot Tom Jaeger is shot down over occupied France. Picked up by the Resistance, Tom becomes the linchpin in their plan to infiltrate a Germans-only brothel and get critical intel out through Brigitte, a prostitute rumored to be sympathetic to the Allied cause.
D-day looms and everyone knows that invasion is imminent. But so is treachery, and the life of one
American
pilot unexpectedly jeopardizes everything. He becomes more important than the mission to a man who cannot bear to lose another agent and to a woman who is more than just a prostitute, who finally realizes that her actions could change the course of history.
About the Author:
Tracy Groot lives in Michigan with her husband and three sons. She is the author of
The Brother's Keeper
and St
ones of My Accusers
—which both received starred
Booklist
reviews—and
Madman
, a Christy Award-winner that also received a starred
Publishers
Weekly
review. Luckily, she and her husband own a coffee shop in Holland, Michigan, where a caffeine junkie can find acceptability and
safe haven
. Visit her online at
www.tracygroot.com
.
The Nazis have occupied Brigitte's homeland of France for years now, and out of desperation she has turned to an occupation despised by her own people. As a prostitute who caters to the Nazis, she has access to information that can help the French Resistance, but she does not see that there is a future for her beyond the war. When Tom, an American pilot, is shot down over occupied France, he joins the Resistance. Although their backgrounds are worlds apart, they begin to realize that their feelings for one another are more than just a wartime romance.
This was an excellently researched novel. Ms. Groot has visited the places she speaks of in the book and studied the history of the area during the War. My only problem was that there so many characters that I had trouble keeping track of all of them. All in all, it was still a 4 star novel.
Disclosure of Material Connection: I received this book free from the publisher through the Tyndale Blogger Network <
http://www.mediacenter.tyndale.com
> book review bloggers program. I was not required to write a positive review. The opinions I have expressed are my own. I am disclosing this in accordance with the Federal Trade Commission's 16 CFR, Part 255 <
http://www.access.gpo.gov/nara/cfr/waisidx_03/16cfr255_03.html
> : "Guides Concerning the Use of Endorsements and Testimonials in Advertising."