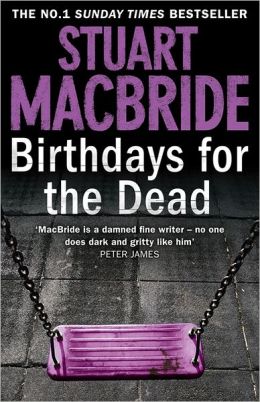 Birthdays for the Dead
by Stuart MacBride
Publisher: HarperCollins Publishers (January 1, 2012)
ISBN-10: 000734418X
ISBN-13: 978-0007344185
About the Book . . .
Detective Constable Ash Henderson has a dark secret! Five years ago his daughter, Rebecca, went missing on the eve of her thirteenth birthday. A year later the first card arrived: homemade, with a Polaroid picture stuck to the front -- Rebecca, strapped to a chair, gagged and terrified. Every year another card: each one worse than the last. The tabloids call him The Birthday Boy. He's been snatching girls for twelve years, always in the run-up to their thirteenth birthday, sending the families his homemade cards showing their daughters being slowly tortured to death. But Ash hasn't told anyone about Rebecca's birthday cards -- they all think she's just run away from home -- because if anyone finds out, he'll be taken off the investigation. And he's sacrificed too much to give up before his daughter's killer gets what he deserves!
Stuart MacBride is the author of several bestselling novels featuring DS Logan McRae, including Shatter the Bones, which reached No. 1 in the Sunday Times bestseller list. The McRae novels have won him the CWA's Dagger in the Library, the Barry Award for Best Debut Novel, and Best Breakthrough Author at the ITV3 crime thriller awards. Stuart's other works include Halfhead, a near-future thriller, Sawbones, a novella aimed at adult emergent readers, and several short stories. He lives in the north-east of Scotland with his wife, Fiona and cat, Grendel.
It's every parent's worst nightmare. A serial killer is abducting girls just prior to their thirteenth birthdays, killing them, and then sending their parents pictures of the torture and murder every year on their birthday. Detective Constable Ash Henderson doesn't just want to solve the mystery; he wants to find the body of his daughter. Unfortunately, time does not seem to be on his side, as his younger daughter is approaching her thirteenth birthday.
First, just let me say that readers who are offended by graphic violence and profanity will probably not finish this book. It is a gritty, disturbing novel about children being tortured and murdered; not a cozy mystery, at all. But if you can find your way past this, it is a novel that will keep you awake until you have finished it, and then it may keep you awake another night, just for good measure.
Disclosure of Material Connection: I received this book free from the publisher through the Edelweiss

book review bloggers program. I was not required to write a positive review. The opinions I have expressed are my own. I am disclosing this in accordance with the Federal Trade Commission's 16 CFR, Part 255 <

http://www.access.gpo.gov/nara/cfr/waisidx_03/16cfr255_03.html

> : "Guides Concerning the Use of Endorsements and Testimonials in Advertising."